Enter Below to Win a Digital Copy of
Book One in the Love and Football Series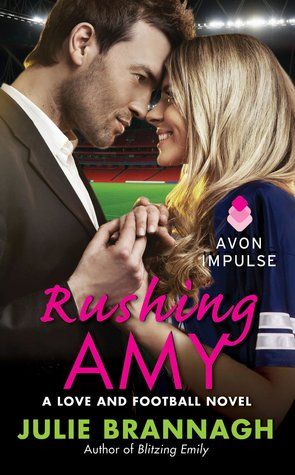 BUY NOW
Julie Brannagh's sparkling and romantic Love and Football series continues!
For Amy Hamilton, only three Fs matter: Family, Football, and Flowers. It might be nice to find someone to share Forever with, too, but right now she's working double overtime while she gets her flower shop off the ground. The last thing she needs or wants is a distraction … or help, for that matter. Especially in the form of gorgeous and aggravatingly arrogant ex-NFL star Matt Stephens.
Matt lives by a playbook—his playbook. He never thought his toughest opponent would come in the form of a stunning florist with a stubborn streak to match his own. Since meeting her in the bar after her sister's wedding, he's known there's something between them. After she refuses—again and again—to go out with him, Matt will do anything to win her heart … But will Amy, who has everything to lose, let the clock run out on the one-yard line?
~~~~~
Hero Profile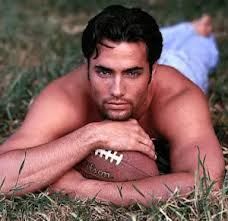 (A Tasty Read's Version of Matt)
Name:
Occupation:
NFL pre-game show football analyst
Physical Description:
Matt is 6'4" and weighs 250 pounds. He's still muscular due to daily workouts. He has olive skin, wavy black hair, navy-blue eyes, a dazzling smile, and dimples at either side of his mouth. (He looks like the cover model on Julia Quinn's Mr. Cavendish, I Presume.)
Likes:
Italian food. The sound of Amy's laughter. Any time at all with their kids.
Dislikes:
Boys who look at or try to talk with his daughter Samantha. Trans-fats.
Relationship Status:
He's now married to Amy Hamilton Stephens…
Typical Friday Night:
Basketball in the driveway and vegetarian pizza with Samantha. If it's not his weekend, he is out to dinner with Amy while the grandparents babysit for the evening.
Drink of Choice:
Premium tequila, wheatgrass juice or water.
Favorite Food:
Anything he can buy at Whole Foods.
Favorite Song:
I'm No Angel, Gregg Allman
Choice of Transportation:
Matt drives a silver Mercedes M-Class crossover.
Boxers or Briefs:
Best Memory to Date:
The day he finally persuaded Amy to go on a date with him. The birth of their children.
Words to live by:
Sweet, and Emotional with a Side of Sizzle! That is RUSHING AMY, the second book in the Love and Football Novel Series by Julie Brannagh. I always love a man who know's what he wants, and Matt knows what he wants...AMY!
Amy, a bit reluctant, from just being dumped, finally gives in and it's MAGIC! But, things don't always go as planned, and these two have a lot of things to iron out.
Take a hero who likes to take charge and "fix" things, and a heroine who is quite the independent lady, and what you get will either spark and burn bright, or burn out! I won't give you any answers, you will need to check out this book (and series) yourself!
~~~~~
Giveaway
a Rafflecopter giveaway
~~~~~
About Julie
Julie Brannagh has been writing since she was old enough to hold a pencil. She lives in a small town near Seattle, where she once served as a city council member and owned a yarn shop. She shares her home with a wonderful husband, two uncivilized Maine Coons and a rambunctious chocolate Lab.

Julie hasn't quite achieved the goal of owning a pro football team, so she created a fictional one: The Seattle Sharks. When she's not writing, she's reading, or armchair-quarterbacking her favorite NFL team from the comfort of the family room couch. Julie is a Golden Heart finalist and the author of four contemporary sports romances.
Find Her Here