FREE FOR LIMITED TIME
GIRL WITH GUITAR
Kylie Ryans Book #1
Caisey Quinn
Released May 22nd, 2013
210 Pages
Buy Now
After Kylie's dad dies in a freak accident, he leaves her with nothing other than her crazy step-mother, Darla, and the ability to play guitar. When Darla kicks Kylie out and she loses her job all in the same day, she hops a bus to Nashville determined to make her late father's dreams come true. Waitressing and saving her pennies to record a demo, her big break comes when she's asked to join a tour going down the tubes with once platinum album-selling country music superstar Trace Corbin. But touring with Trace is hardly a dream come true since he's pretty much drinking his career down the drain. If Kylie can't pull Trace out of his rut, he'll pull her and her dreams down with him.
~~~~~
$.99 FOR LIMITED TIME
GIRL ON TOUR
Kylie Ryans Book #2
Caisey Quinn
Released August 27th, 2013
181 Pages
Buy Now
An up and comer trying to make a name for herself...

KYLIE never expected to be stuck on a tour bus with a pampered princess and her boyfriend's ex.

A troubled artist struggling to hold onto his career...

TRACE thought he was finally getting to do things his way. Until the label added co-headliner Gretchen Gibson, the only person in country music with more issues than him, to his No Apologies tour.

Surrounded by tabloid rumors and people they can't trust, Kylie and Trace need each other more than ever. But the choices they make will change everything.

Because chasing your dreams and following your heart don't always lead you to the same place…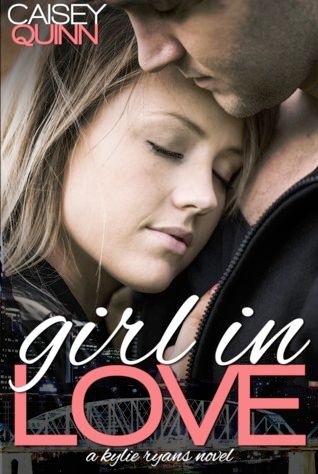 COMING SOON
GIRL IN LOVE
Kylie Ryans Book #3
Caisey Quinn
Releasing February 4th, 2014
Add to Goodreads Shelf
She's living her dream...

Kylie Ryans is the biggest thing to come out of Nashville since, well, since Trace Corbin. With a hit album and a powerful label behind her, she appears to be the girl who has it all.

But appearances can be deceiving.

Fresh out of rehab, Trace Corbin is ready to take on the world. Just not the girl he walked away from. Because if there's one thing he knows for certain, it's that the people you love are the ones who have the power to destroy you.

As their worlds collide, they'll have to make the ultimate choice. Follow their dreams, or give it all up for love.

They say love conquers all, but for Kylie and Trace, it just might wreck everything they've worked for.
~~~~~
Just wanted to say that I was SUCKED into this series from GIRL WITH GUITAR and immediately read book two, I think I finished them within a day. I CAN'T WAIT for GIRL IN LOVE, and Feb 4th can't come soon enough!
The Series is sometimes sweet, sometimes spicy (ok...can be SUPER SPICY at some points), so not for your Younger Teens, but it is certainly fun, and sassy and will keep you reading late, and I mean LATE into the night!
Kylie is a strong girl, with a good head on her shoulder's and she meets Trace, who is going down a spiral, and it takes the love of a special person like Kylie to get him on a better path...but let's just say that path comes to an abrupt halt...Oohhh...I did NOT see the ending in GIRL ON TOUR coming, and I certainly hope that things will work out for Kylie and Trace, cause I certainly want them to be together, but without all the drama.
As a fan of the show NASHVILLE, I for one had a fabulous time reading about characters within the country music business. I highly recommend this series to ALL readers, who are in the mood for something a bit different from the same ole' same ole' rock star romance! The KYLIE RYANS SERIES has spunk, and heart and I want MORE MORE MORE!!
For more info on the series, Visit Caisey Quinn's
Site