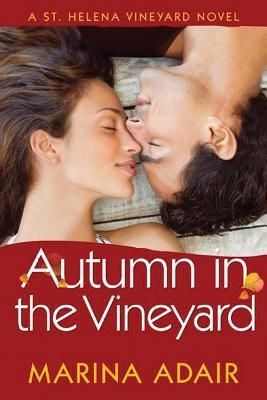 AUTUMN IN THE VINEYARD
St. Helena Vineyard #3
Marina Adair
Released October 29th, 2013
Montlake Romance
Frankie Baudouin has a hundred reasons not to trust Nate DeLuca. First, he's a DeLuca. Second, he kissed her—in front of the entire town—and then never called. Oh, and he's after her land. Sorrento Ranch is Frankie's last chance to prove to her family—and to herself—that she has what it takes to be an award-winning winemaker. And she will stop at nothing to ensure her success—even if it means playing nice with the starched, sophisticated, and oh-so-sexy Italian.

For Nate, Sorrento Ranch is more than just soil and grape vines; it was his father's dream—a dream Nate is determined to make a reality. So when he finds himself forced to cohabitate with a hot-headed, irrational, and incredibly gorgeous Baudouin, Nate is surprised to discover that chaos could be so much fun—especially when she sleeps in nothing but lace.
~~~~~
Ahh...I absolutely LOVED AUTUMN IN THE VINEYARD. I think it is definitely my favorite so far in the St. Helena Vineyard Series by Marina Adair, and that is saying A LOT, cause these Romances contain some Smooth-Talking, Sexy, Smoldering Italian Men...and Nate is the Sexiest of the bunch...especially with that FINE BEHIND!!
Frankie was fabulous. She had a HUGE heart, a Tough Girl Exterior with "DO NOT ENTER" practically written across her forehead, but a marshmallow center that Nate was trying (if not for the last decade) to get to, but breaking those walls was TOUGH!
Their chemistry was off the charts SEXY....the sparks were practically flying from the pages! But the best part was the quiet moments where Frankie just let Nate be there, and they both were able to let down their guards. Those sweet moments stole my heart.
And who wouldn't LOVE Mittens...such a cute addition to the story and I can't wait to see more of Frankie and Nate in the next installment of the St. Helena Vineyard Series, which is BE MY FOREVER, Ladies-Man Trey DeLuca's Romance...Should be fun to see him fall!!
I for one am hoping that Marina gives Tanner and Abby a romance next...THAT should be a bumpy ride!!
Great Series, Great Characters and a whole LOTTA heart!!