HARPER'S LITTLE SPITFIRE
Angel Steel
For the last 15 years, Sage Mathews has had her eye on one of the Harper brothers. Each time she came even remotely close to catching his eye, he ruined it by taking advantage of the closest woman around. Despite her many attempts of capturing his attention, she repeatedly ended up suffering from the pain yet again. Having been hurt for the last time, Sage decides to pull herself away from the bad boys of Laker.
Fate had a different plan for her… Certain surprises have drawn Sage back into the path of the Harper brothers once again, this time exposing her to their interesting...predilections. Possessing secrets of her own, she is thrown into a world she never thought possible.
One woman holds the Harper brothers' hearts in the palm of her hands, but the true bad boy for her won't allow her into his heart. Will he ever drop his guard down and finally feel the true love from a woman? Will she allow one of the Harper brothers into her heart? Or will he demolish her entirely for anyone else?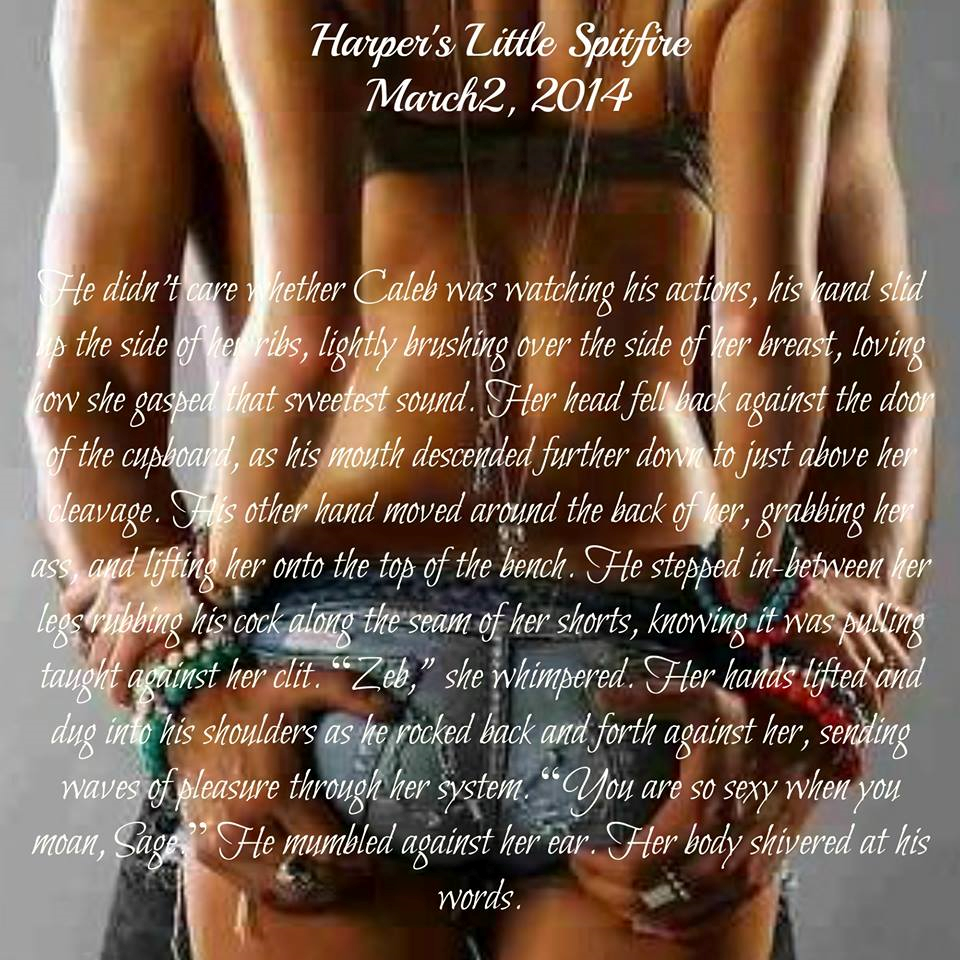 Well, where do I begin...Yes, this book is smoking hot in the bedroom with more men in the bed than I can count (ok...just four brothers...and sometimes just one, two or three of them). So we can say that Sage is a lucky girl with four smoking hot brothers all pining for her...kind of a dream come true since she has been in love with all of them for the last ten years. So, yes....Smokin hot and if you are in the mood for an erotic romance with multiple partners, I highly recommend HARPER'S LITTLE SPITFIRE.
Just know, this is a heavy on the sex, light on the plot...so I won't lie and say that there were times when they story was slightly all over the place. I guess I would have liked a bit more depth in the emotion category, might have made the ending a bit more believable. Sage at times came off a bit flighty, maybe a bit naïve, but I still liked her as the heroine.
And the Harper Brother's...well...what can I say about four brothers who like to bang the same chicks...at the same time...it's all about the fantasy!
I will definitely be waiting to see what Ms. Steel comes up with next for the Harper's!
Find Angel Steel Here