Enter Below to Win
Tons of Texas Montgomery Mavericks Ebooks
or a $20.00 Amazon Gift Card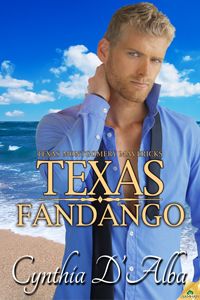 TEXAS FANDANGO
Texas Montgomery Mavericks #3
Cynthia D'Alba
Released February 4th, 2014
Samhain Publishing
Buy Now
KC Montgomery was eleven when she met the love of her life. Of course, seventeen-year-old Drake Gentry didn't know she existed, but that didn't stop her girlish fantasies from growing and changing over the years.

Now, after enjoying a front-row seat to his breakup with his latest girlfriend, she's been handed an all-grown-up fantasy come true—two weeks at the Sand Castle Resort. With him.

Drake most definitely noticed KC a long time ago, but the timing's never been right. Now that he's facing a lonely vacation that was supposed to be for two, it seems only natural to accept KC's offer to fill in. And as far as her terms go… No strings. No expectations. No holds barred. Drake is no fool—he's all over it.

But once they're back in Texas there are invisible strings still hanging between them. Strings labeled attraction, affection…even love. And the more they try to untangle the knots, the tighter they're bound together.

Warning: Beware of sunburns, whirlpool sex and sand in delicate places.
~~~~~
Sweet and Sassy are two words that come to mind after reading TEXAS FANDANGO, Book Three in the Texas Montgomery Mavericks Series, which I think I will have to go back and read the full series, cause I am LOVIN some of the secondary characters that I have met, and I think I will be needin to be in the "know" about their love lives!!
KC knows what she wants (or has wanted for years) and she is finally taking a chance on getting it, which means almost throwing herself at Drake, until he gets it through his thick skull that she has been in love with him for years. Drake, on the other hand, always thought KC was gorgeous, but her cousin had warned him off years ago, but that doesn't count anymore once KC offers herself for some Sun, Surf and Sex...Now what guy would turn that down?
It's only when they arrive back in town that things get confusing, and with neither knowing how the other feels, things kinda go BUST! I recommend you read this fabulous novella to find out if these two can get their acts together long enough to find a love of a lifetime together.
This was my first romance by Cynthia D'Alba, but I know for sure it won't be my last!!

~~~~~
Giveaway
a Rafflecopter giveaway
~~~~~
Cynthia D'Alba started writing on a challenge from her husband in 2006 and discovered having imaginary sex with lots of hunky men was fun.

Her first book, Texas Two Step, released in 2012 to outstanding reviews, was a Samhain Publishing best seller.

The second book in the Texas Montgomery Mavericks series, Texas Tango, will be released by Samhain Publishing in November 2013.

In February, 2014, Texas Fandango, a Novella in the Texas Montgomery Series will be released by Samhain Publishing.

She is currently at work on book 3 of the Texas Montgomery Mavericks series (Texas Twist).
She has stories in two anthologies released this year…Smoking Hot Firemen (Something's Burning) in July 2013 and the Mammoth Book of Medical Romance (Wake Me When It's Over) in September 2013. She'll have a story in Cowboy Heat (Back Stage Pass) coming in 2014.

She holds a Bachelor Degree in Nursing, a Master Degree in Business Administration, a Master Degree Curriculum and Instruction and a Doctorate in Higher Education Administration.